by Justine MAGAUD BONILLA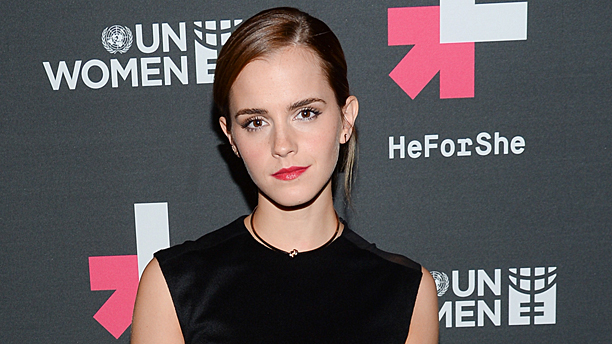 You may know her as Hermione Granger in the worldwide successful saga Harry Potter from 2001 to 2011, or more recently as Belle in the film adaptation of Beauty and the Beast. Emma Watson is not only an actress who broke all records at the box office. At 31, the young British actress, who has won more than 20 awards for her career, is a committed and recognized feminist. Her voice has been heard all the way to the UN, where she gave a memorable speech on September 20, 2014 at the launch of the He For She gender equality campaignof solidarity. Motivated by the desire to makeher fame work for feminism (« If not me, who? If not now, when? »), she became a Goodwill Ambassadorfor UN Women and was named Inspiring Woman of the Yearby ELLE magazine in 2017.
« If not me, who ? If not now, when ? »
Through the He for She campaign,Emma the activist is not only targeting women. She wants to involve young boys as well as men in her fight for gender equality. In her speech at the United Nations, Emma Watson highlighted the fact that men are directly affected by inequality. They are taught from childhood on about stereotypical clichés about what a man should -or should not -be. These expectations of masculinity and emotional control are a major source of suffering for many men : "In the UK, suicide is the biggest killer of men between 20 to 49, eclipsing road accidents, cancer and coronary heart disease. I've seen men made fragile and insecure by a distorted sense of what constitutes male success. […] Both men and women should feel free to be sensitive. Both men and women should feel free to be strong."
No country in the world has yet achieved perfect equality between women and men. In France, men earn 19.2% more than women. In the media, when an expert is called upon to discuss current affairs, 80% of them are men. France is ranked 6th in the world for economic power, yet our country cannot find gender equality. In 2020 in France, 90 women died from the blows of their partner or ex-partner. In the world, it is estimated that one woman out of three has already been subjected to sexist and sexual violence. Emma Watson's fight is therefore more than necessary, and the worldwide fame of she who played Hermione Granger can only help to publicize her fight and to advance the emancipation of women in the world,"because the reality is that if we do nothing, it will take seventy-five years, or for me to be nearly 100, before women can expect to be paid the same as men for the same work. 15.5 million girls will be married in the next 16 years as children. And at current rates, it won't be until 2086 before all rural African girls can have a secondary education". She visited Uruguay in 2015 to encourage women to become involved in the political life of their country.
The actress is committed to increasing access to education for young girls in the world. Let's remember that 31 million girls do not go to school around the world. In the Global South, this represents about one girl in four. Women represent two thirds of the world's illiterate people. To promote girls' education in developing countries, the actress went on humanitarian missions to Zambia as well as Bangladesh. In 2016, she launched a feminist book club called « Our Shared Self », where each month members choose a book on equality between women and men whose topic will be discussed the following month within the club. This digital community has tens of thousands of members.
Emma Watson did not hesitate to raise her dissenting voice against the novelist without whom her career would not have been the same: J.K. Rowling. The author of Harry Potter published tweets in 2020 considered to be transphobic and they were sent very quickly around the world. Emma Watson quickly gave her support to the transgender community on social networks, "I want my trans followers to know that I and so many other people around the world see you, respect you and love you for who you are".
If the fight for gender equality is far from being won, we can only be proud to see public figures like Emma Watson put their fame to the service of a universal cause, and to include men in this fight that they don't really feel concerned by.
Justine MAGAUD BONILLA